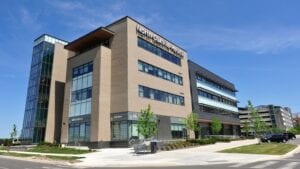 Halton Denture Clinic provides its patients with remarkable denture products and services, ranging from the highest quality restorations to customer service. At Halton Denture Clinic we strive to provide high quality denture solutions at affordable prices and are here to help you with your denture needs. Our patients receive quality denture care. Applying safe, non-toxic, and clean procedures together with a state of the art full service laboratory where we create all of our prosthesis on site. This assures high precision and efficiency in which we are able to take care of you and your denture needs from start to finish.
Our clinic is conveniently located in the brand-new state of the art facility at North Oakville Medical building, right by the entrance of Oakville Trafalgal Memorial Hospital. With collaboration between other medical and dental practitioners, we are able to provide the best treatment that our patients deserve.
We offer direct billing to all major dental plans. Financing is also available thru Dental Card. The office is wheelchair accessible and patients of the clinic receive FREE PARKING VOUCHER after each visit.