Denture Repair in Oakville
Halton Denture Clinic is your go to place for reliable and quick denture repair in Oakville, Burlington, Milton, Mississauga, and surrounding areas. We are to help when with your denture emergencies. We have a full-service dental laboratory inside our Oakville Denture Repair Clinic, making it possible to repair and restore your dentures during your visit to get you smiling again as soon as possible. Our goal is always to get your replacement teeth restored to perfect working order without interrupting your life. 
We make it convenient and easy so you can have the freedom and life you deserve. You will receive dentures that help you live life comfortably and smile from cheek to cheek.
Our Denture Repair Clinic is conveniently located in the brand-new state of the art facility at North Oakville Medical building, Oakville right by the entrance of Oakville Trafalgar Memorial Hospital. 
CALL TO BOOK YOUR APPOINTMENT FOR SAME-DAY DENTURE REPAIR IN OAKVILLE 905-582-1299
Same-day Denture Repair
Complimentary Personal Consultation
On-site Certified Dental Laboratory
Wheel-chair accessible
Electronic billing to insurance
Free parking vouchers
New Technologies and Techniques
We Speak English, Cantonese, Ukrainian and Russian
Reliable & Quick Denture Repairs
Cracked & Broken Dentures
Do you have a set of cracked or broken dentures that need immediate attention? Without a doubt, your best option is to get your dentures fixed where you got them.
Most denture repairs can be done by a professional within an hour or so. The most extreme cases which are repairable can also be done in as quick as 24 hours! If you have a denture emergency that needs immediate attention, contact us right away.
DIY Denture Repair
Although there are lots of "easy & quick" online solutions to repair your dentures, it's strongly recommended that you leave it to the professionals. It's likely that you spent thousands of dollars for quality dentures – the likelihood of repairing them well at home with a DIY kit is rather slim. Denturists have all the tools and training to ensure long lasting results from a denture repair job.
Professional Denture Repair in Oakville
If you need your dentures repaired quickly and effectively, it's best to leave it to the denture repair professionals. The team at Halton Denture Clinic can fix your dentures in no time! Contact us for all your denture repair needs in the Oakville area.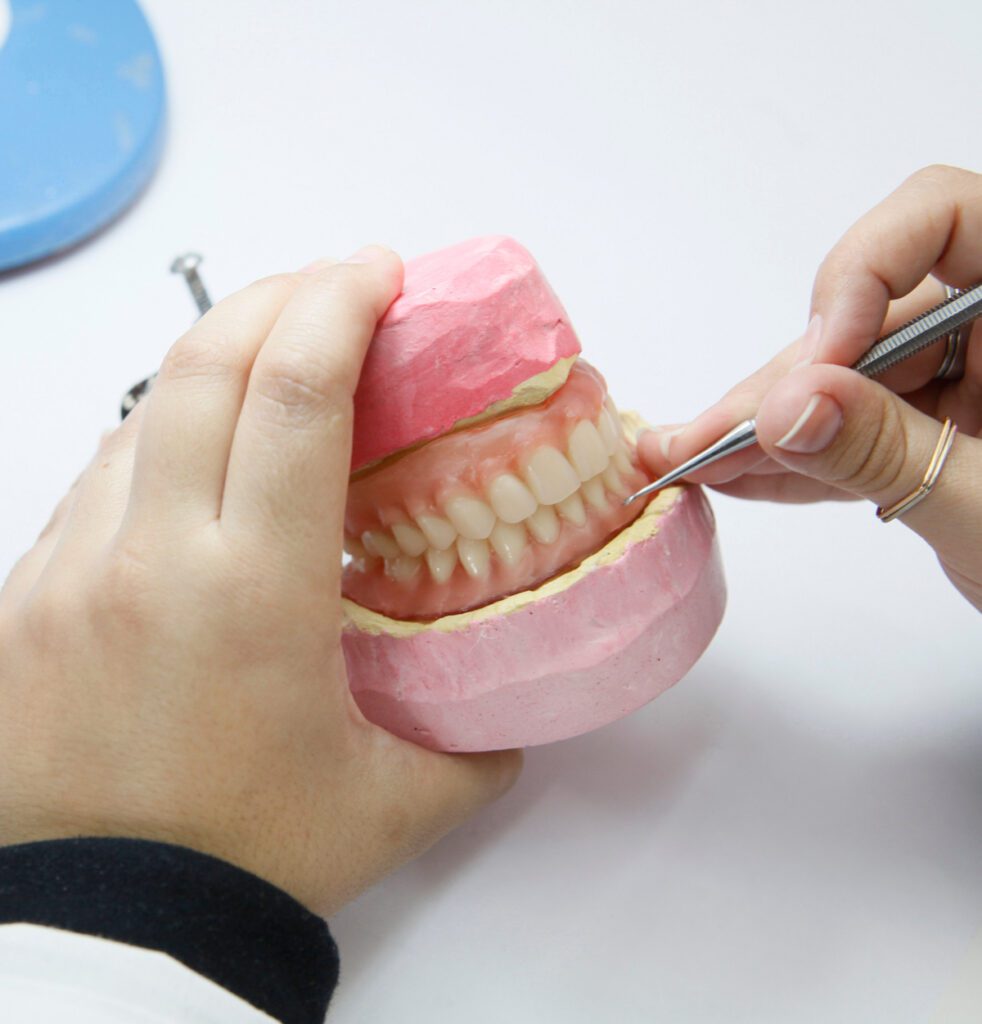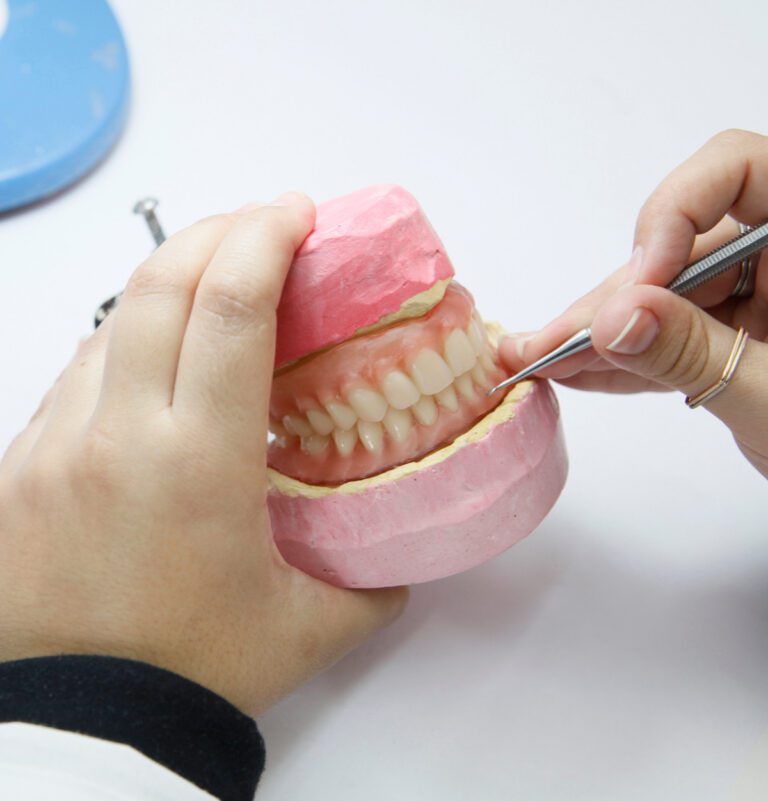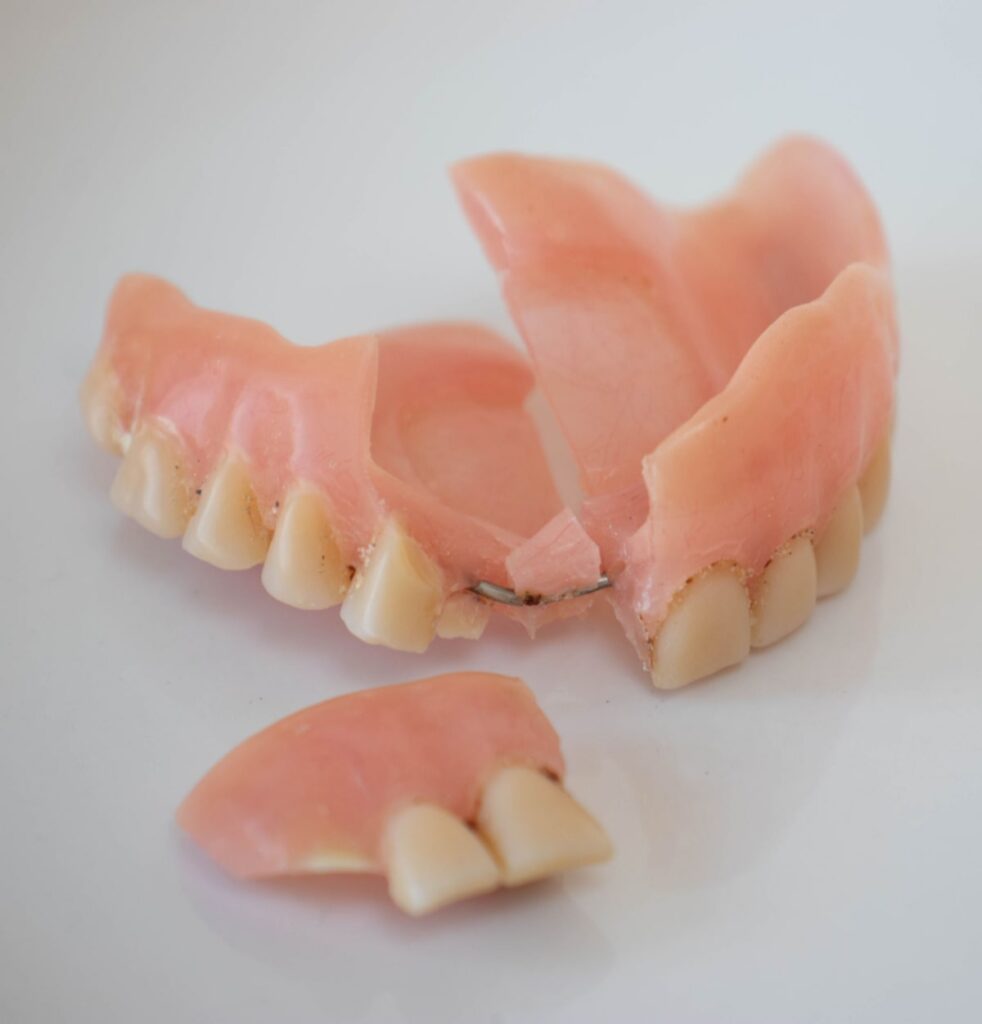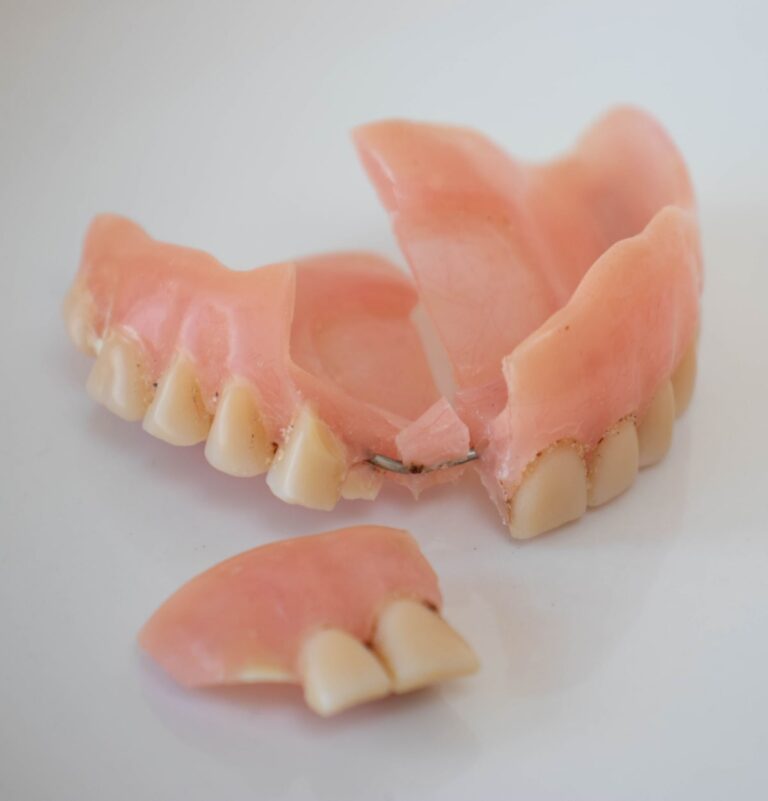 Common Signs That You Need to
Repair Your Dentures
Difficulty Chewing
One of the main goals of getting dentures is to restore normal eating habits. If you notice increased difficulty with chewing, it may be time to refit your dentures.
Discomfort/Pain
You should consider getting your dentures look at or repaired if you're experiencing oral sores, jaw soreness, or uneven pressure on your gums. At first, you may experience some discomfort but once you acclimate, you should not be experiencing any pain.
Changes in Facial Shape
Your teeth/dentures play a large role in keeping the shape of your cheeks and jawline. If you notice any significant changes in your cheek or jawline appearance, you may need an adjustment or repair for your dentures.
Chips, Cracks, or Breaks
If your dentures are either chipped, cracked, or broken, it's in your best interest to have you dentures professionally repaired as soon as possible. Avoid DIY repairs and using your dentures while they're broken.
If you're experiencing any of the above situations with your dentures, contact us right away. We'll get your dentures repaired to look and feel like new in no time!
How long does it take to repair a denture?
Repairing a broken denture can be done with a varying degree of difficulty depending on the severity of the breakage. Most repairs are done within ONE hour while you wait at our clinic.
Can my denture be reinforced to prevent future breaking?
Yes, at Halton Denture Clinic we use various reinforcements from gold platted wire to fibers(fiberforce) to strength your broken denture. This helps to strengthen the broken area and avoid future breakage.
What if a tooth popped out or broken/chipped from my denture?
Our denture clinic carries a wide assortment of teeth molds in many sizes and shades. We are able to replace the broken tooth with a new one. 
My Dentures broke what should I do?
Do not try to glue or put together the denture yourself as this might make it more difficult for our denturist to put together. Bring the broken denture with any broken pieces to the clinic.
My natural tooth came out and now i have a space what can be done?
A tooth addition can be performed in most cases. The denturist will examine the situation and let you know if same day is possible. Sometimes laser welding is required especially when dealing with cast partial metal dentures. Additional time is required to do such repairs. 
Why did my denture break?
Your dentures get used every day 365 days a year. Over the years they wear down and you body changes along side as things change in your mouth. Weight loss or weight gain can alter the fit of your dentures. Poor fitting dentures are more vulnerable to breakage. Over times these factors weaken the denture and lead to it breaking.
I have had dentures for many years. With age, it got harder and harder for me to manage with bottom denture. Svetlana recommended that I put a cushioning in my bottom denture. The cushioning is called soft liner. It made a big difference in my bottom denture. Now I can eat with my denture again. I would definitely recommend soft liner to anyone.
At my age, I finally was able to get a pair of teeth. I never even thought that having teeth might be so important. I am so happy right now! I can't believe I can smile again like back in the old days. I always though at my age you don't really need teeth anymore, how much longer I would really live? Well, I was mistaken. Getting my new teeth  was the best decision I have ever made. Thank you to everyone who helped me with this process.