What Are Complete Dentures?
A Complete denture, otherwise known as a "Full denture" replaces all of the missing teeth in your lower, upper, or both arches. Complete dentures are a removable type of dental prothesis and are commonly made from acrylic. Contact us today to book a consultation and to learn more about our available denture options!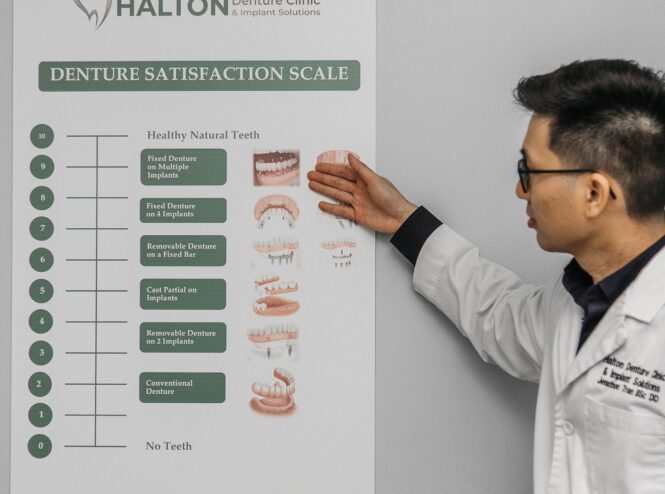 Denture & Implant Solutions In Oakville
Complete Dentures at Halton Denture Clinic
At Halton Denture Clinic we offer several types of Complete Dentures from Standard Dentures to Precision Dentures. The first step is easy, just contact us for a free personal consultation and our Denturist will help you choose the right denture for your needs. Depending on your bone density, the overall health of your jaw structure, your aesthetic concerns, and your budget we will recommend the best possible fit. 
Our process always begins with educating you about your oral health. With professional guidance, you're sure to choose the denture treatment that best suits your needs and lifestyle.
Oakville's Denture & Implant Experts
Standard Complete Dentures
Standard Complete dentures fit comfortably and are good for chewing. They are designed using basic tooth shades, shapes, and standard quality materials. Some patients with oral tissues that have shrunk, or those who have an unusual bite may need a personalized denture that utilizes premium materials and precision techniques.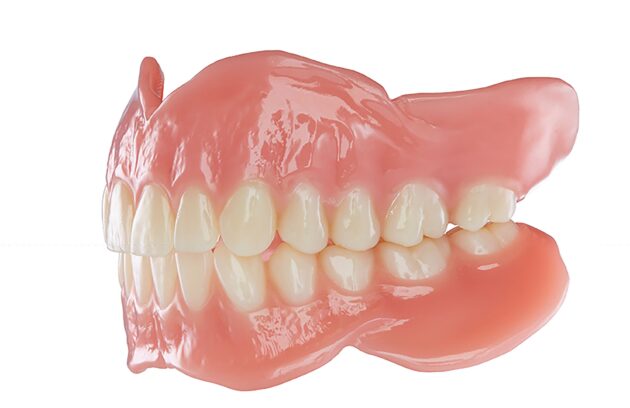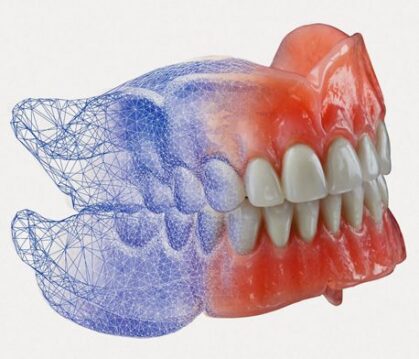 Full Denture Solutions At Halton Denture Clinic
Precision Complete Dentures

Precision Complete Dentures are made to suit each patient's individual looks and needs using measurements of your face and jaw. At Halton Denture Clinic, your denture is handcrafted on site to match your age, complexion, and facial features. Our skilled Denturist takes into considerations facial features such as the shape of your jaw line, lips, eyes, and hair colour to produce a pleasant smile. Additional procedures are incorporated in the construction of your denture to closely mimic the movements of your jaw.
Our on-site dental laboratory uses high quality teeth in the construction of your dentures to ensure a positive outcome. A precision Complete denture can improve function, fit, comfort, and appearance.
The Benefits Of Complete Dentures
Why Choose Complete Dentures?
Complete dentures have a base that matches your gum tissue and teeth that are designed to look like your real teeth
Complete dentures provide a quick turn-around time compared to dental implants -the healing process is shorter and you can enjoy your dentures much quicker
Complete dentures are an affordable option for replacing an entire arch of teeth. No surgery required and insurance often covers a portion of the cost of your dentures
If you care for your complete dentures well, they can last for anywhere from 5-10 years
Explore All Of Our Denture Services
Denture Services In Oakville
Frequently Asked Questions
Complete dentures are oral prosthetics that are designed to replace a complete arch of missing teeth. The base of the denture is typically made from an acrylic resin and the denture teeth are also made either from acrylic or porcelain. Complete dentures are supported in the mouth via the surrounding hard and soft tissues in the oral cavity.
Complete dentures typically last anywhere between 5-10 years on average. The longevity of these oral prosthetics varies depending on bone/tissue loss, how well they fit, and how well they are taken care of. With a thorough oral hygiene routine and proper denture care habits your complete dentures can even last up to 15 years.
The fabrication process for complete dentures usually requires 4-5 appointments. It's a good practice to schedule follow-up appointments to make sure that your dentures fit well. Any post insertion adjustments that are made early on can make a world of difference in the long run. 6 months following tooth extraction is a good window for proper healing of the gums, sockets, and bone.
Some of the distinct advantages of getting complete dentures include:
They are a cost-effective treatment option for missing teeth
Complete dentures provide excellent support for facial muscles and jaw structure
They enhance your smile and can improve self-esteem
Complete dentures that are properly fitted can help with speaking and eating normally
Some good denture care habits that should be part of every denture wearer's oral hygiene routine include:
Brushing your dentures with soft bristled toothbrushes
Cleaning your dentures with denture cleaner
Avoid using abrasive toothpastes
Keep your dentures moist when they are not being worn
Take out your dentures overnight and place them in warm water
One of the best alternatives for getting complete dentures is getting implant dentures. Implant dentures provide a comfortable, secure, and natural feel. Implant dentures are supported by dental implants which are fastened to your jaw bone. If price is not the main concern, implant dentures are your best bet.
Get In Touch With Our Team