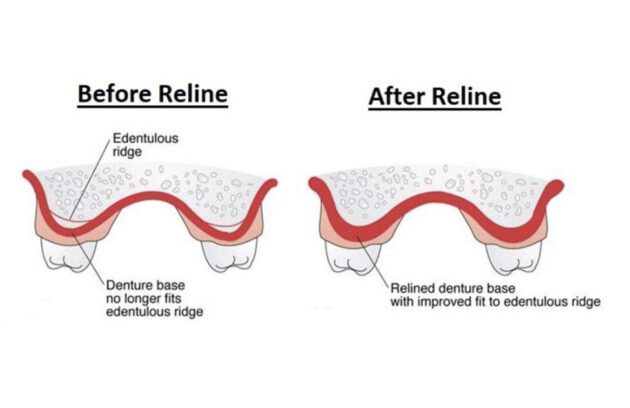 Denture & Implant Solutions In Oakville
Once natural teeth have been extracted or lost from your mouth bone shrinkage starts to occur. The bone tends to rapidly shrink after extractions for the first 6-12 months, after which the process continues at a much more gradual rate. A Reline is needed every 2-3 years to restore the fit of the denture and re-adapt to your gums. The regularity of relines depend on several factors such as changes of tissues and bone resorption which can be influenced by other health conditions.
The requirement for Denture Relining occurs when bone and tissues change due to shrinkage. Possible causes may be:
• Post Immediate Dentures
• Tooth loss
• Weight loss
• Bone loss in the upper or lower jaw
• Sickness or disease
Oakville's Denture & Implant Experts
In order to perform a Denture Rebase the bite position, existing teeth and acrylic base must be in good condition. An impression of your oral tissue is taken inside your denture(s) to provide a working model. New acrylic base material is added to your denture to produce a correct fit. The appearance of your dentures will not change. The procedure is similar to relining. The difference being that a rebase replaces all the pink-acrylic denture base material. The existing teeth remain in the exact same place.
Reasons for Denture Rebase procedure:
Broken denture
Weakened or old denture acrylic base
Immediate denture
Sickness or disease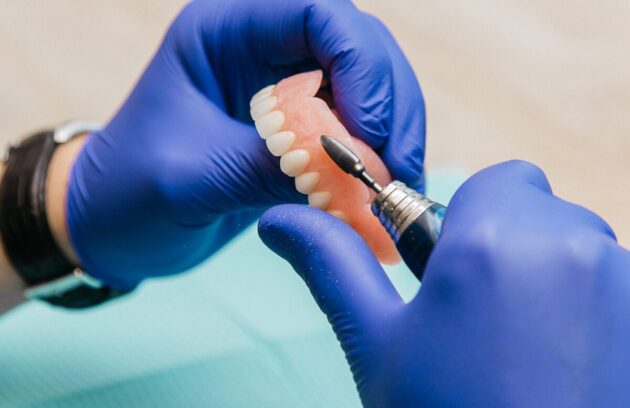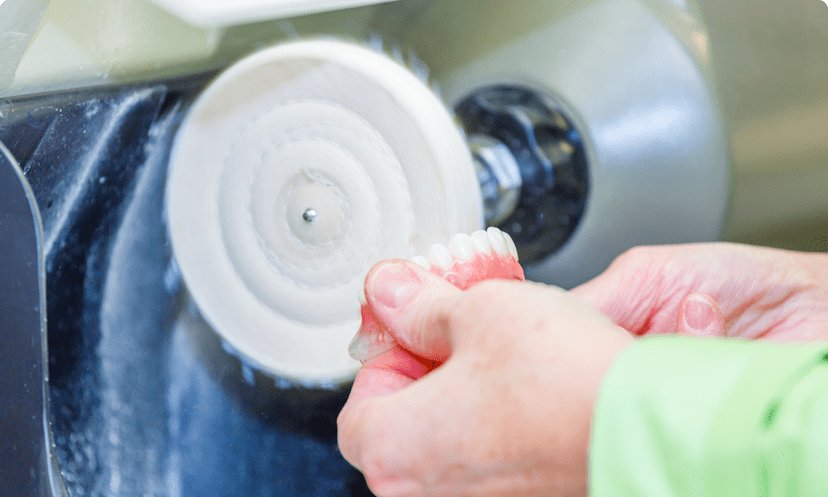 Denture Solutions At Halton Denture Clinic
Denture Reline & Rebase at Halton Denture Clinic
At Halton Denture Clinic & Implant Solutions Denture Reline and Denture Rebase can be performed same day. Patients come in the morning to have the necessary impressions and measurements taken, through the day our licensed Dental Technologist work on your dentures in our On-Site Dental Laboratory. By the late afternoon your dentures will be ready to be fitted by our Denturist.
Explore All Of Our Denture Services
Denture Services In Oakville
Denture Reline & Rebase FAQs
FREQUENTLY ASKED QUESTIONS
A denture reline is the process of resurfacing the inner plates of your dentures to help create a better, more comfortable, and more precise fit as your gum tissues change over time.
The three types of denture reline procedures are:
Soft Reline – A short-term solution for patients with very sensitive gums. A soft reline uses pliable and soft materials to create a more comfortable and better fitting denture.
Hard Reline – The most common type of denture reline procedure that provides longer-lasting results for better fitting dentures.
Temporary Reline – A temporary solution that helps reduce inflammation of the gums until a better denture alternative is available.
It's recommended that you get your dentures relined every 3-5 years in order to enhance the overall comfort, fit, and function of your dentures. Your gum tissues and jaw bone change over time and a denture reline helps conform to those changes.
A denture rebase involves the replacement of the acrylic denture base without having to change any of the teeth. This process is common if the base of your dentures is significantly more worn out than the denture teeth. 
A denture rebase is typically recommended for denture patients who have a denture with the acrylic material in poor shape but the denture teeth are in great condition.
Denture teeth last much longer than the base of your dentures. A denture rebase is recommended every 5-7 years to help extend the lifespan of your dentures.
Get In Touch With Our Team